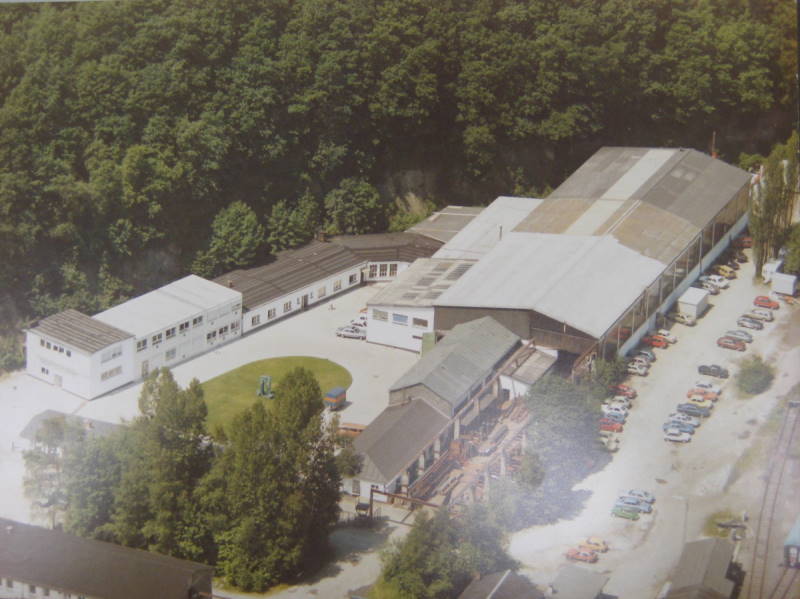 "To be aware of one´s own history means to have a future" (Hans Lohberger)
Josef Fröhling GmbH & Co. KG was founded in 1947 by Josef Fröhling and is today, as Danieli Fröhling, well known for modern cold rolling mills, slitting and cut-to-length-lines, double-sided milling machines as well as for respective auxiliary equipment for the cold-rolling industry. We focus on customer value, productivity and the outstanding characteristics of the finished strip which is produced on our plants. Right from the beginning, the name Danieli Fröhling is synonymous for advanced technologies. Technologies for which we often were the first to introduce them to the market and which became not only a standard for many operations but set today´s technological cutting-edge solution.
Already in the 1950s Fröhling developed the cluster mill concept. Shortly after the companies' foundation we supplied complete rolling mills and slitting lines to customers in Europe and in the following years to customers worldwide.
The first double-sided milling machine for copper strip was delivered in 1967. In the early 1970s we supplied our first 5-stand tandem mill for copper alloys to the former USSR. Our first cut-to-length lines were started up in 1973. Also in the 1970s we supplied our first 12-high and 20-high mills to the customers. The direct hydraulic screw-down for cold rolling mills was developed and established in the market.
In the 80s of the last century we started our business in the Chinese market. At that time, Fröhling was thus playing a pioneer role among German small and medium-sized companies. Worldwide novelties in the 80s were – among others – the first vacuum tensioning system and the first fully automatic changing device for cutter tools in slitting lines.
In 1991 Fröhling developed and successfully set into operation the world´s first CNC-cutting device. Still today, this principle is standard for high precision circular-knife-shears, especially when cutting thin strips. In 1993 the first vacuum roll to reduce strip speed was supplied and in 1997, for the first time ever, a trimming line for aluminium strip which had been designed and supplied by Fröhling reached a processing speed of more than 1500 m/min.
In order to strengthen its presence within the markets for cold rolling mills and strip processing lines, especially in the segment of non-ferrous metals and stainless steel strips, the internationally operating Danieli Company integrated Fröhling in its group in 1999.
Since the beginning of the new millennium (2000 till today) the worldwide economy is characterized by increasing globalization and concentration of the metal industry. Danieli Fröhling managed to assert itself on the market thanks to its technical competence, its flexible adaptation to the actual market situation as well as to continuously developing further its products and therefore is now steadily increasing its business. Also the last years stand for a systematic extension and completion of our product range.
The worlds´ first flexible cold rolling mill (for tailor-rolled blanks) was supplied in 2004. The booming aluminium industry in Asia, especially in China, became a constant challenge for Fröhling to maintain its position in the market for cutting lines. Today we can consider ourselves as market leader in the slitting line segment for thin and wide strips. The over-whelming majority of worldwide built high-speed trimming lines for aluminium today carry the Fröhling-Logo.
Based on steadily increasing order entries and new requirements for our equipment, particularly regarding volume and dimensions, we had to look for a new, bigger company site in the beginning of the first decade of the new century. In 2007 we moved from Olpe to Meinerzhagen, into modern premises allowing us to cope with new challenges.
In order to complete our scope of supply and to offer optimal complete solutions to our customers, we started to develop electro-static oiling machines in 2007. Today, several of these machines are already successfully in operation. About the same time, Danieli Fröhling, in co-operation with Innoval Technologies (member of the Danieli-Group since 2012), could announce their co-operation to develop and market modern aluminium rolling mills. The first "Diamond Mill" was sold in Thailand in 2010 and started up successfully. Further orders for new aluminium cold rolling mills followed short after. At about the same time we developed and supplied our first rolling-oil filter device as well as, in co-operation with a competent partner, our DAN-ECO² fume-exhaust suction- and oil recovery system for aluminium rolling mills.
We´ll remain on the road to success thanks to our creative and experienced colleagues. For decades already, this is what "Fröhling" stands for, what we demand from ourselves and what constantly drives us forward.